L1810 Laser Cutter
Introducing the new L1810 2nd generation laser cutter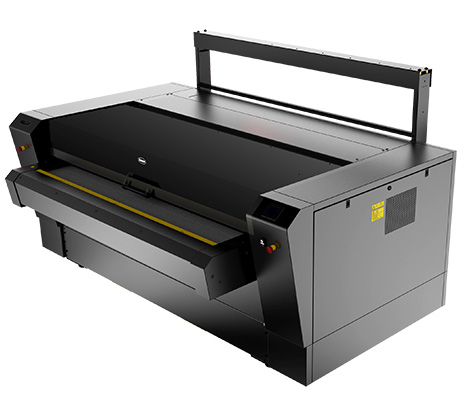 Optimal power control
leading to meticulously cut products
The L1810 laser cutter is suitable to cut textiles, such as sportswear, dye sublimation garments but also all sorts of raw materials used in the composite industry. The extreme focus of the laser beam leads to far-reached precision even in high-production environments.
The L1810 2nd generation laser cutter will be available soon.
Future-proof to grow along with your company
The L1810 models are built to meet the highest cutting requirements and have many retrofittable options and features, so you can enhance your cutter at any given time that suits you and the growth of your company best.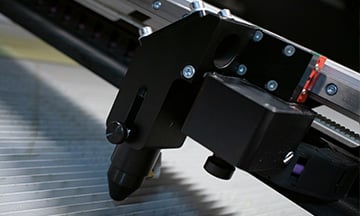 High-quality Laser source
The laser cutter is equipped with the best quality sealed RF laser source. It keeps the laser beam focused and constant for highly precise results and leaves edges sealed and soft without fraying. The laser cut is contactless, meaning there is no drag on the material and no need to change blades. It enables users to process sensitive and easily distorted textiles with high precision.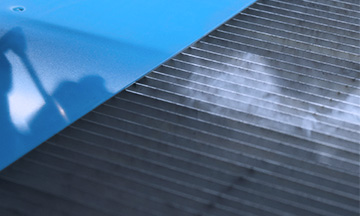 Classified safety system
The L1810 meets the Class 1 standard, ensuring the laser cutting source is covered during operation and paused when the cover is opened. For safety and environmental reasons, fumes are removed by the internal extraction system. Some residue can be produced when laser cutting, but is removed from the cutting chamber by the extraction system. This way, a clean work environment is maintained.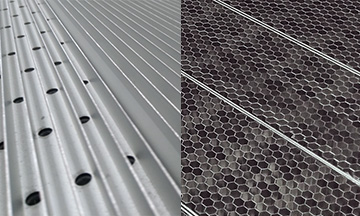 Unique Conveyor System
Continuous processing of materials on roll, using a segmented feed to cut part by part seamlessly
The vacuum holding down the material ensuring a smooth media movement through the working area and a clean-cut
Metal non-reflective slat construction avoiding flashbacks
Choice of conveyor planks: blade planks for most applications, optimal fume extraction, easy to clean and durable or honeycomb planks for a better grip on lightweight, slippery materials.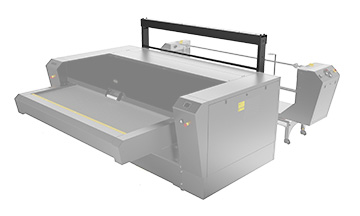 Camera Systems
The Head camera is standard included. It reads printed registration marks to perform a perfect cut.
The Vision System is available as an option. It provides state-of-the-art camera recognition for scanning the material. In addition, Vision allows cutting while the material is being fed and scanned, simultaneously, leading to more time for the operator to attend to other tasks.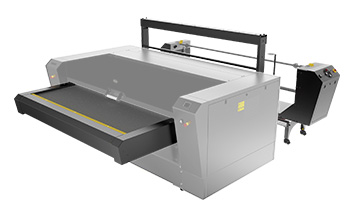 Field upgradable options
L1810 2nd generation
Vision Camera System: increasing productivity and workflow efficiency
GoProduce Pro Pack: Workflow automation with Barcode functionality
Front Conveyor Extension: less tension on the material and easier picking of cut pieces 
Unwinder for constant feed and media alignment
Conveyor planks: Blade or Honeycomb for lightweight materials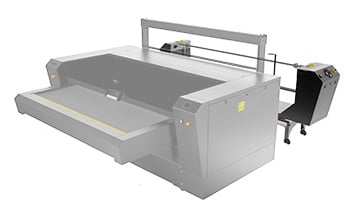 Unwinder options
The motorized unwinder ensures that the material is transported to the cutting bed in a constant and stable manner, thus eliminating fabric distortion during cutting. Two models are available:
Unwinder with droop sensor: ideal for loading thin material where the loop is kept constant.
Unwinder with edge detection: for a constant alignment and perfect even rolling off of textile material.
bENEFITS OF L1810 laser cutting technology
Enjoy the benefits of an automated workflow, reduced idle periods and maximum use of material with a minimum of waste.
Small footprint and stable base: Facilitating easy installation and fitting in about any size of production area
Contactless cutting with high precision: No fabric distortion while cutting, therefore even suited for sensitive and easily distorted textiles
Perfectly sealed edges: Cutting quality exceeding your expectations
Continuous production of roll materials: Thanks to the unique conveyor system and workflow automation with GoProduce software
Significant cost savings: Fewer labor costs thanks to automation, low setup costs and no tool cost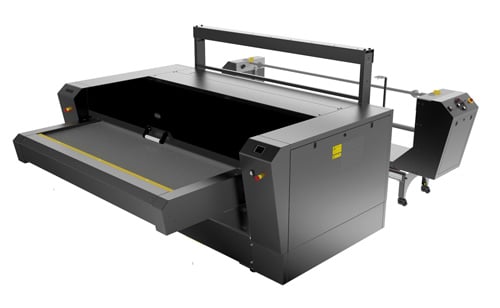 Choose your ideal cutting workflow
The L1810 laser cutter can be used to process a broad gamut of applications to the highest quality expectations. Depending on the specific application and production environment, different cutting workflows/technologies can be used. Find your ideal cutting workflow based on production volume and the application that needs to be cut.
Cut-on-the-fly workflow
With this cutting technology, the Summa laser cutter keeps cutting while scanning and feeding the material simultaneously through the Vision camera system. This will facilitate extreme fast processing of jobs, increasing the production capacity considerably. Especially within high-volume production environments, this technology will be used to its full potential.

Only possible with Vision camera.
Cut-to-frame workflow
Summa's Cut-to-Frame workflow allows cutting banners precisely to the millimetre, so they will perfectly fit into a frame with the image aligned as desired. This cutting workflow is an ideal solution for cutting Silicone Edge Graphics (SEG) efficiently and meticulously, so post-cutting labour is reduced to an absolute minimum.

Possible with Vision or Head camera.
Trace & Cut workflow
The Trace & Cut workflow allows automatic processing of an entire roll with different jobs without pre-prepared cutting data. By means of the Vision camera system, contours of the artwork are traced without the need to retrieve cutting files. Subsequently, the artwork is scanned and cut automatically, offering maximum operator comfort.
Only possible with Vision camera.
Barcode workflow
Using the Barcode workflow, an entire roll with different cutting jobs can be processed with minimal operator intervention. This will lead to fewer human errors, higher productivity, impeccable cutting results and freed-up time for the operator to attend to other jobs.

Possible with Vision or Head camera in combination with GoProduce Pro Pack.
MODEL
L1810
2nd generation
LASER POWER
50 or 100 Watt (Aircooled)
120 or 250 Watt (Watercooled)

DIMENSIONS

(H x W x D)

1172 x 2810 x 2178 mm
1172 x 2810 x 2578 mm
(Base with Front Conveyor Extension)
1632 x 2810 x 2178 mm (Base with Vision System)
All dimensions are displayed without Unwinder.

MEDIA WIDTH
Up to 1845 mm
WORKING AREA

1840 mm x 950 mm

SPEED

Up to 1000 mm/s

ACCELERATION

Up to 1G

CAMERA RECOGNITION

OPOS marks
Optional: Vision System

FEATURES

Welded Steel base
Three phase input
Repeatability 0,05% of move or 0.05 mm (whichever is larger)

STANDARD SOLUTION INCLUDES

Summa GoProduce Laser Edition
Conveyor System (with configurable planks)
Compressed air drying bowl and flow regulator
Head Camera

OPTIONS

Summa GoProduce Laser Edition Pro Pack
Planks: Blade or Honeycombs Planks
Front Conveyor Extension
Unwinder
Vision System