GoProduce Software
Developed to perfectly match your F Series flatbed cutter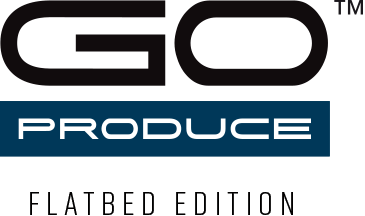 software to perfectly match your F Series
GoProduce is the first software module within Summa's GoSuite platform. It is developed to handle jobs easy and efficiently. The modern interface with improved navigation enables users to find and operate functions as quickly and intuitively as possible. 
Behind every flatbed cutter,
you will find powerful software
The standard GoProduce software - included with all F Series models - embeds various functionalities. To maximise your F Series' use, the optional GoProduce Pro Pack offers even more functionality.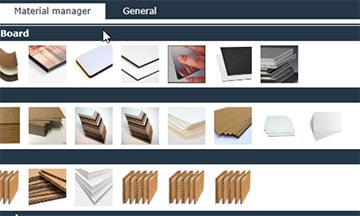 Material Manager
GoProduce contains a convenient material database, which includes an extensive range of material types and can be adapted to your specific needs. The Material Manager offers added value by working with methods, meaning that you only need to choose the material you want to process and the material manager itself automatically chooses the correct tool and its settings to process it with. More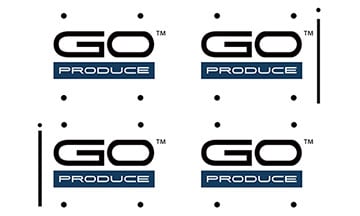 Sorting
In order to minimize output time, the order in which objects are handled is very important. GoProduce has the capability of determining the start and end of a vector, as well as the order of processing. The aim is to shorten the traverse path. Basic sorting is done by GoProduce itself.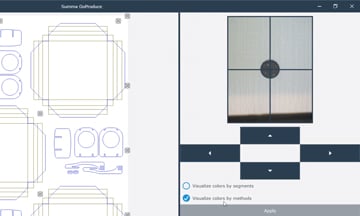 Camera recognition
The recognition process, localisation of the registration marks and the process itself can be tracked in the camera preview window. All kinds of compensations and marks, which occur in everyday practice, are manageable with GoProduce – whether they are printed on film, textiles, cardboard, etc.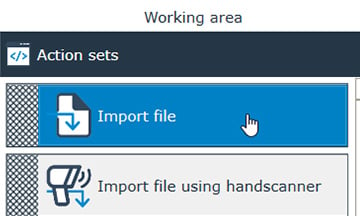 Custom configuration of action sets
The flexible action sets enhance workflow automation and enable users to tailor the workflow to their needs. This way, jobs can be handled in a natural, trouble-free and straightforward way.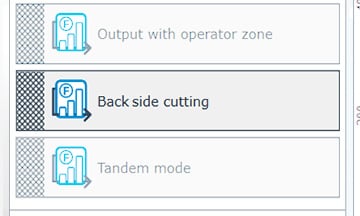 Back side cutting with edge detection
In GoProduce 1.10, a new camera profile is added to read the marks and detect the edges of the sheet. This way, the machine will start the process immediately, without the need to cut out the marks first. This feature makes it easier to protect the print while saving the operator valuable time. See how it works on this video.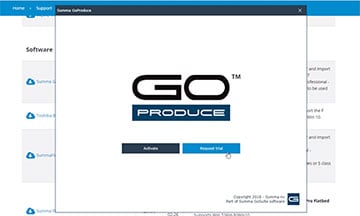 Tutorials and Knowledge Base
Various tutorials are created to support you in the installation and use of Summa GoProduce. Watch them all on Youtube.
Knowledge base available on www.summa.com/faq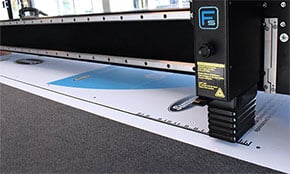 Barcode functionality (Pro Pack)
The barcode functionality reads the printed barcode and automatically identifies the job to obtain the necessary cutting data from the computer. The built-in camera scans the job automatically (or alternatively by hand scanner). See how it works in this video.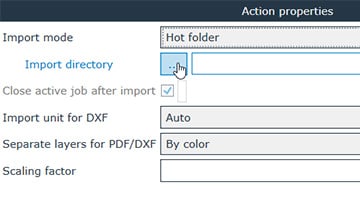 Hot Folder Support (Pro Pack)
With the hot folder functionality in GoProduce 2.0, files dropped in a folder can now be opened automatically in GoProduce. Error-detection and handling of bad jobs will be done by this feature, so the appropriate job can be cut instantly without lingering.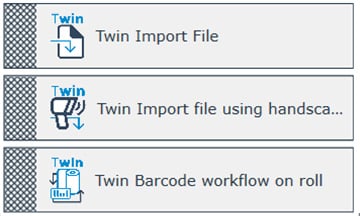 Twin X Workflow (Pro Pack)
Twin X is a new type of workflow enabling GoProduce to read cutting files prepared for Summa Roll cutters. This way the Twin workflow, previously only available on OPOS CAM roll cutter units - can now also be used on all Summa roll cutter units, equipped with an OPOS X sensor.
GoProduce software tailored to your business needs
Thanks to targeted GoProduce features, you decide how to tailor and use the software and operate your Summa flatbed cutter as efficiently as possible. Are the standard integrated features sufficient or do you wish to use the Pro Pack? Choose your level of software advancement according to your specific cutting requirements.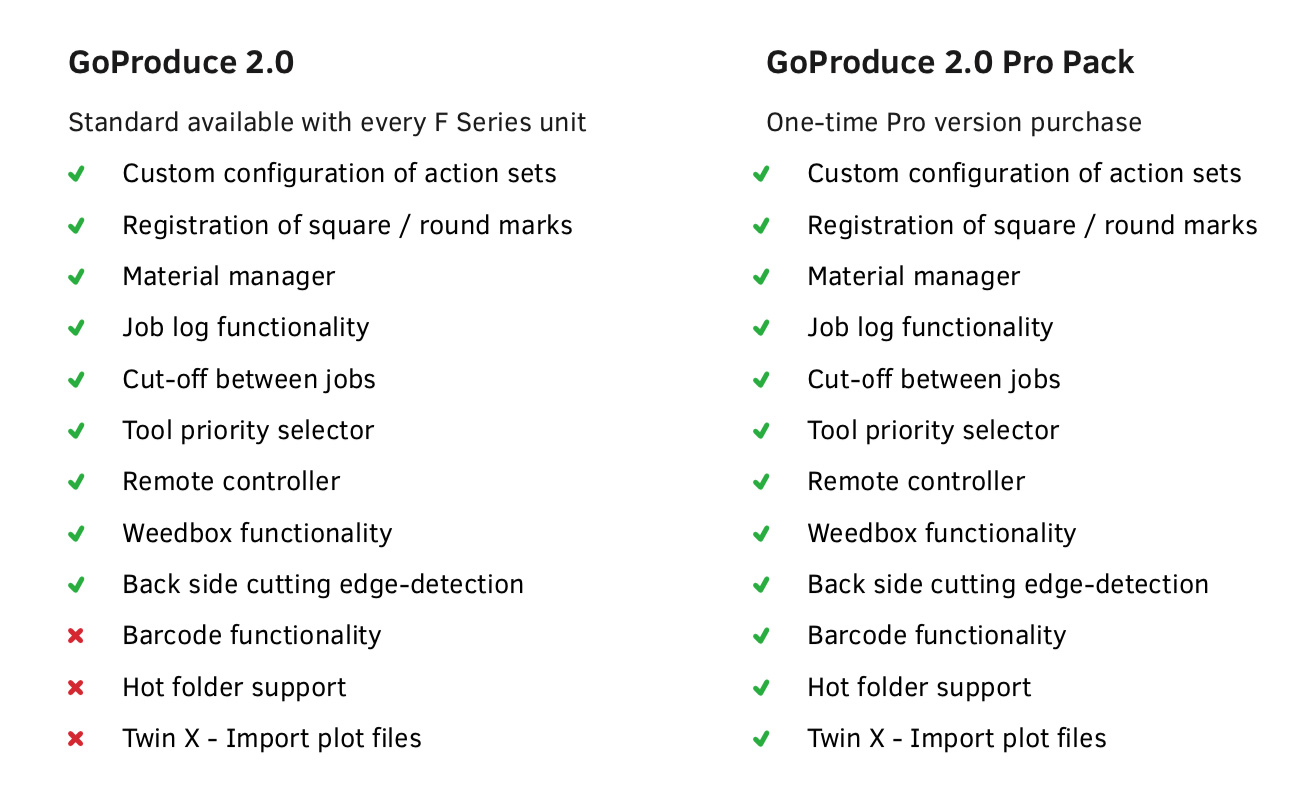 Your material manager
This is why you will love the Material Manager in GoProduce:
25+ materials and presets for your F Series
Materials include specs such as thickness and distinguishes between flexible and solid materials
Create your own preferred materials and presets
Work smart, each material is linked to matching tools and its settings
Easier for your designer, no need to know the required tool in advance

Two ways to efficiently scan in your job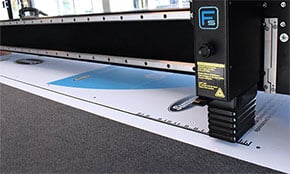 With the built-in camera
Through this setup, scanning happens automatically, job after job. The job will be opened in GoProduce to be processed immediately and the camera searches for the next job without operator intervention.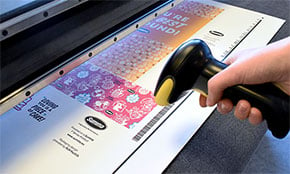 With a hand scanner
The hand scanner increases the flexibility of the operator's workflow. By scanning the job manually, operators can quickly switch between jobs and materials. Multiple, different jobs can be processed back to back with ease.
---
Get the most out of your flatbed cutter
An advanced flatbed cutter is not complete without suitable software. GoProduce is developed with the user in mind. That is why you can organize the software interface to your preferences.
Read more on how GoProduce can help to increase the usability and productivity of your hardware.