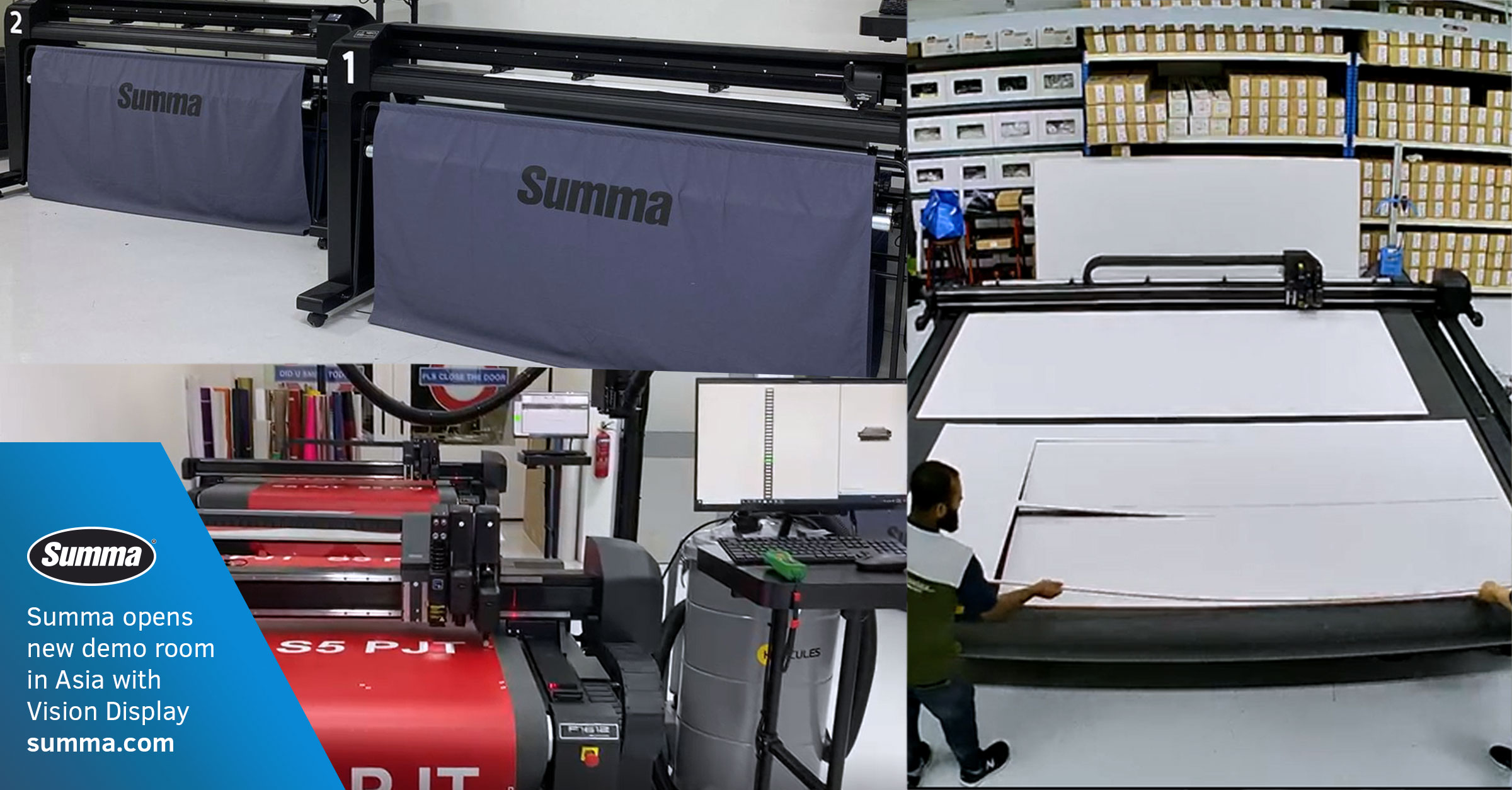 Summa Press Release / For immediate release 17/02/2021
---
In close collaboration with its customer Vision Display, Summa proudly presents its brand new demo room in Singapore. Being active as a company on a global scale, Summa has always had a strong focus to also expand business in the Asian Pacific markets. This demo room is the next step in the expansion of the Summa brand in this region.
For many businesses, having a demo room is a unique opportunity to demonstrate the value of their products to a prospective customer. If done well, a demonstration can be a very effective and powerful tool to let prospects understand how your solution can truly be the game-changer they were looking for. A solution that solves the pain points in their cutting workflow and enables them to increase yield and efficiency in their workflow.
A Summa cutter to every cutting need
The Summa portfolio showcased in the new demo room is multifold. Different Summa products are present to demonstrate a multitude of cutting solutions: 2 S2T160 vinyl roll cutters, 2 F1612 flatbed cutters and 1 F3232 wide-format flatbed cutter. So, no matter what cutting solution visitors are looking for, they will certainly find one right up their alley.
During demonstrations visitors will be thoroughly informed about the typical Summa product characteristics and possibilities, the many tools and modules available, the integrated Summa GoSign and GoProduce software and included features and media handling add-ons. This way, visitors will get a proper insight into the integration of a Summa product into their existing workflow, the synergy between a Summa cutter and their printing equipment and how this can lead to levelling up their entire production workflow.
Christof Van Driessche, Chief Commercial Officer, Summa explains: "The realization of adequate facilities in Singapore to welcoming visitors is the icing on the cake for Summa in expanding business opportunities in Asia. By partnering up with Vision Display – one of our key customers in Asia and experienced user of Summa cutting equipment, we are excited to use their premises and educate potential customers in the many benefits specific to our Summa products, and how our products can help to bring added value to their business."


Video courtesy of Vision Display 
Learn more about Summa products
---
About Vision Display
Vision Display is a renowned printing company, located in Singapore, providing a wide range of textile and commercial graphic solutions.  Ranging from window displays, large-format banners, merchandising displays, billboards, outdoor- and indoor graphics and much more.
About Summa
Every day, for over three decades, Summa delivers the world's highest-quality vinyl and contour cutters, finishing flatbeds and laser cutters without compromise. Summa provides cutting edge solutions for the printing, signage, display, apparel and packaging industries. Summa's global headquarters is located in Gistel, Belgium and can be reached by calling +32 59 27 00 11 or at www.summa.com.